Saturday, December 04, 2010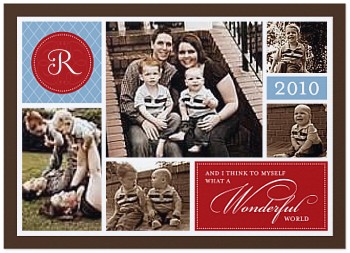 With Love Blue Christmas 5x7 folded card

Posted by

Rieses Pieces
at 4:27 PM
1 comment:
Links to this post


Tuesday, November 30, 2010
December First has arrived and that means our mailbox will soon be greeted with MANY cards from our beloved family and friends. I am really thinking about investing in a Christmas card wreath because we get SO many cards each year, I think we got over 50 cards last year. Ever since Mike and I were married, we have faithfully mailed out 50+ cards.
(If you are not on our list and would like one...sign up now! I don't want to leave you out :)
Blogging Mama's, don't miss out the deal for 2010! This year, Shutterfly is giving
50 free Christmas cards to bloggers
! That is right-you can save some cash for some extra gifts this year and get really nice cards thanks to Shutterfly! Once you have signed up, they will contact you via email and share the steps with you to get you in on this great deal. Now, that is the way to start off the Christmas spirit and make this blogging mama SO excited to have some extra cash still in our holiday budget! Yippee!
.....Ha-Ha! One problem! The family photos?? Now, what to do for our 2010 cards? Mike LOVES going out and posing for that perfect Christmas card photo ... (NOT)! I actually am in love with some of these cards and thinking I may stick with one of these this year, because after all-a posed photo is not as exciting as candid right?
Here is my
#1 Favorite
(Monogrammed B/W candid) that I think we MAY do! I am a HUGE Fan of monogramming...and this allows me to pick 4 favorites of our boys and of course place 2 all time favorites of our whole family! What do you think?
Here is my
#2 pick
.....The traditional POSED FAMILY PHOTO
(IF I force all 4 of us to go out for that POSED photo of us currently!)
I love the striking poinsettia/paisley look at the bottom!
(I am in the red mood today :)
And my
#3 favorite
is 2010 chcolate brown monogrammed collage! I love all the photos in color...and I love the color brown! I think this is elegant and I love the year displayed on the card.
We will see what really comes during Christmas card order time for me! Ha-ha
(I always stress myself out and get those matchy-matchy coordinating outfits...for that perfect card!)
But we have over 1,000 photos on the computer and we did have family photos taken in August, thanks to
Jason Pendley
, who did an AWESOME JOB!! Mike, you may be lucky this year and not have to get all dressed up for cards after all! LOL
This December is a big milestone for us, since Kaden, will be turning 1! So, I have allot on my mind for his first birthday and of course the Christmas to-do-lists! Therefore, I am in love with this 1st
Birthday announcement
for our little guy!
You must check out some of the
great calendars
you can make for the grandparents! Such a great gift if you are not sure what else to get the precious grandparents!
Don't forget to check out the deal for 50 free cards if you are a blogging mama!
What do you think?
Care to weigh in on which card I shall pick for our family?
Please share your thoughts and do let me know your address so you can see which one we end up choosing! {wink}
Happy December to all :)
Posted by

Rieses Pieces
at 5:38 PM
No comments:
Links to this post


Our Family